Franklin Township Community School Corporation faces many challenges, increasing enrollment with no control over population growth, aging facilities and fewer financial resources than neighboring school districts.
Growing Enrollment
Families want to raise their children here. Franklin Township has one of the lowest residential tax bills and the only Township "A" rated school corporation in Marion County. The positive, safe, livable atmosphere of our community attracts those looking for the perfect place to call home.
Within our school corporation boundaries lies an ever increasing number of residential subdivisions, all of which are driving dramatic and ongoing enrollment growth. Many of the families enrolling in our schools tell us our reputation is the foremost reason they moved here. As a result, our enrollment has increased by more than 3,600 students in the past 15 years and by more than 1,800 students since 2017. And growth will continue – by at least 200 students annually for at least another decade. Our current enrollment of 10,847 for the 2021-22 school year is significantly higher than the "strong growth" projection made in a 2018 demographic study by the Indiana Business Research Center of Indiana University's Kelley Business School. The increase is so substantial that FTCSC commissioned a new demographic forecast, completed in October 2021 by McKibben Demographic Research, LLC, which forecasts total district enrollment to increase by 1,367 students, or 12.6%, between 2021-22 and 2026-27. Total enrollment will increase another 681 students, or 5.6%, from 2026- 27 to 2031-32.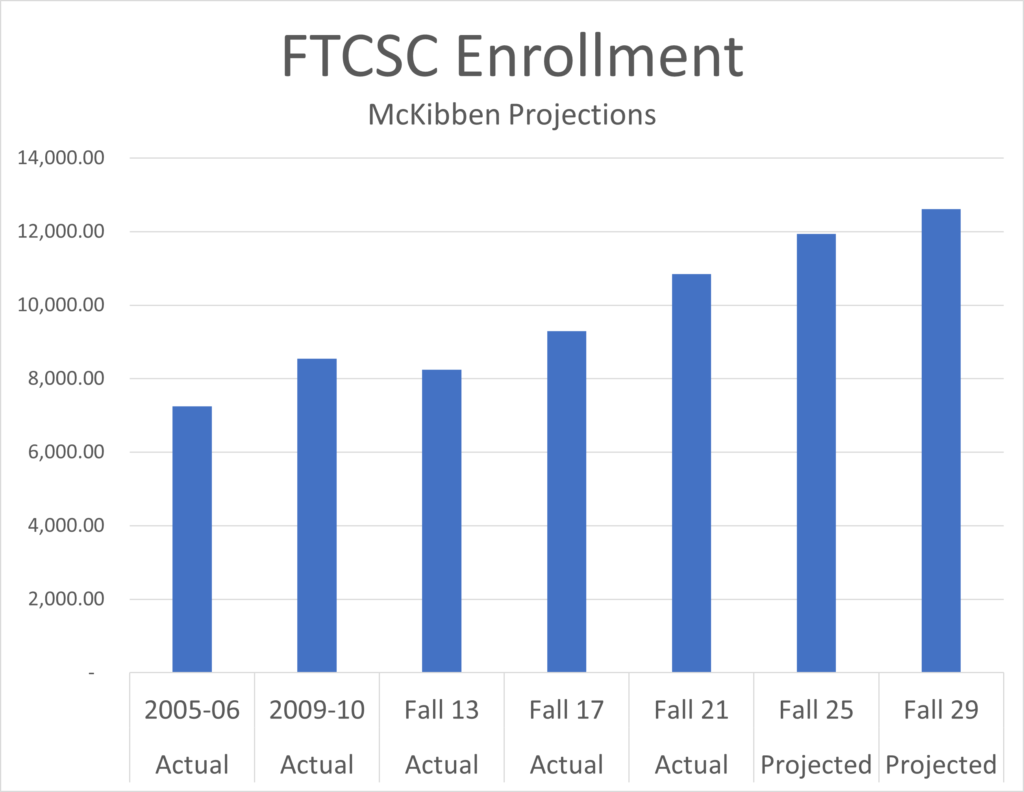 Thanks to grade reconfiguration undertaken in 2020-21, FTCSC temporarily reduced the number of its ten school buildings that are over 90% capacity from six to two. However, new enrollment growth has increased that number to five and at our current growth rate we will be over 100% of capacity in less than 5 years unless changes are made.
The School Corporation can't control growth in the community.
FTCSC has been as proactive as possible and sought to keep the community and local governmental officials informed about the projected effects of new housing developments as they were proposed. At the same time, FTCSC does not have a voting membership on the local redevelopment commissions to provide information and make sure the school district's viewpoint is heard on local matters. Franklin Township Community School Corporation has absolutely no jurisdiction in any decisions of land use, housing starts, zoning, etc. FTCSC cannot slow growth. Our job is to serve students who live here, not govern who lives here or how many new homes are built.
Aging Facilities
Working with The Skillman Corporation, a comprehensive study regarding facilities care and needs was completed. In addition to being at 90% of enrollment capacity, the study shows that FTCSC had over $100 million dollars in facility needs and repairs necessary to be completed within the next 15 years. The majority of which are needed at the high school. Keep in mind this dollar amount just addressed current facilities and not the need for additional facilities due to student growth.
This study broke down the costs by Building Envelope, Building Systems, Building Interiors, and Site. In addition, it broke down the timeframe by 0-5 years, 5-10 years, and 10-15 years. The most work is needed at the high school. Whereas there have been additions and renovations over time, the center core and mechanical systems of the building are 1970's.
More than just school buildings, Franklin Township Community School Corporation's 10 schools represent a valuable community asset that must be maintained and right-sized to serve incoming students just as they have served previous student generations.
While Franklin Central High School looks nice on the outside, the center core of the building is approaching 50 years old and needs basic infrastructure upgrades and replacements. Essentially the building will deteriorate from within – with serious functional and cost consequences – without needed updates to or replacements of plumbing, heating, cooling, electrical and roofing systems.
Work already done:
In 2020, FTCSC reconfigured buildings in an effort to maximize space for several more years. The decision was made to change the grade configuration from seven K-5, two 6-8, and one 9-12 buildings to six K-3, two 4-6, one 7-8, and one 9-12 building. This configuration change has produced many academic, transportation, safety and logistical benefits. Reconfiguration bought time for FTCSC to plan additional facility upgrades and expansions. Reconfiguration does NOT mean, however, that the enrollment/space challenges have been permanently resolved. In fact, while reconfiguration temporarily reduced the number of schools over 90% capacity from six to two, our most recent enrollment surge has increased the number of schools over 90 percent capacity to five. The school corporation needs additional space – enough to educate 1,000 to 1,100 students per grade level while maintaining established academic quality and overall school corporation excellence.
In addition, the school corporation has approved to expand Kitley Intermediate School, which is now nearing full capacity. The expansion, scheduled for completion by the 2023-24 school year, will add 12 classrooms, a cafeteria, gymnasium, computer science lab and boost the school's capacity to 1,500 students.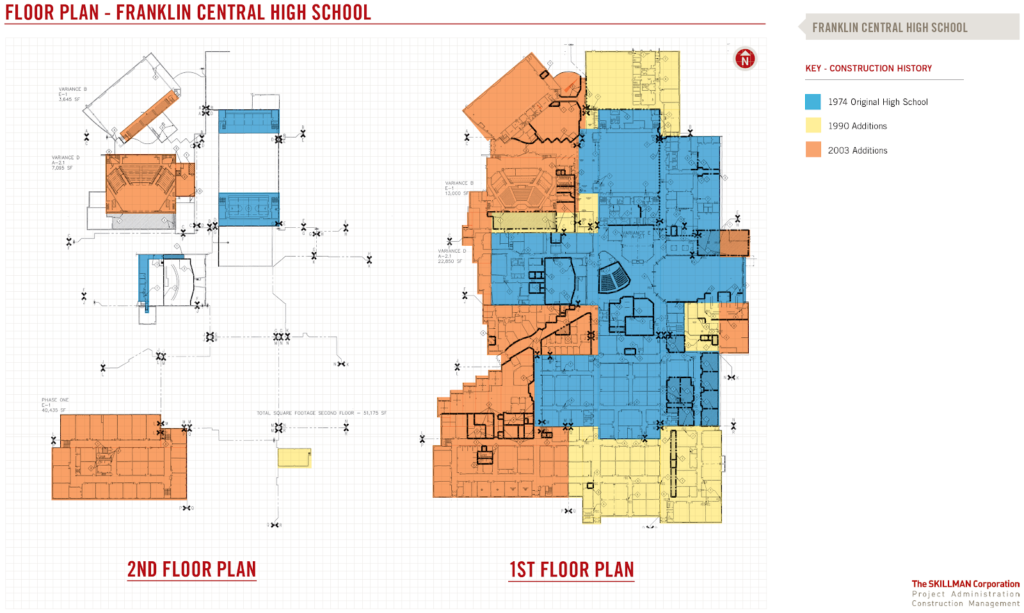 Finances: Doing more with less
Franklin Township Community School Corporation continues to exercise prudent fiscal management to make the most of available resources.
Earning community trust through sound financial management
Top Tier Credit Rating: The corporation's savvy debt management (strategic refinancing), tax rate reduction (21% since 2017), and other research and planning have yielded clean external audits and one of the highest credit ratings (AA-) of all Indiana school districts.
Balanced Budget: FTCSC's current administration has operated a balanced budget for five consecutive years. In addition, FTCSC's current administration renegotiated their interest rates which included changing the financial institution that FTCSC used. This change by the current administration earned the district over $1,000,000 in interest earnings in 2020 as compared to $132,000 in interest earnings in 2016. 
Saving the Taxpayer: FTCSC is always looking for cost savings. One recent example: Franklin Township residents will benefit from a substantial tax reduction, due to a timely re-funding of a bond issue by FTCSC in 2020. With the Federal Reserve's reduction of interest rates in response to COVID-19, school officials saw and utilized an opportunity to refinance $64.8 million in bonds, reducing its debt service by $9,673,464 over the next 13 years, which represents a direct tax savings.
Administrator Cost: FTCSC is focused on keeping as much money as possible going to the classroom. In fact, based on 2020 school district budgets, FTCSC has the lowest per pupil funding spent on administrators in all of Marion County and our Hoosier Crossroad Conference.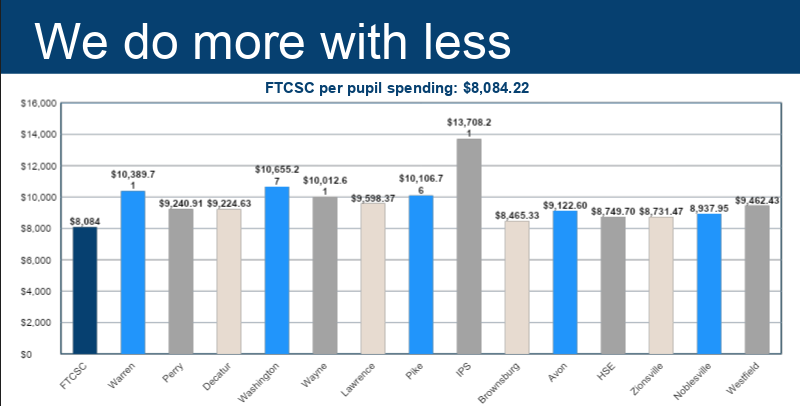 Our academic and extracurricular success comes despite being one of the lowest funded districts in Indiana, spending the lowest amount on a per pupil basis of any school district in Marion County.
Franklin Township Community School Corporation is among the leading school districts in Indiana, with a proven record of providing education excellence with fewer financial resources than any other district in Marion County or the surrounding area. As mentioned previously, the quality of our schools, the availability of open land, combined with the low tax bill environment is accelerating the growth in Franklin Township and driving enrollment growth, which, in turn, is driving the corporation's need for expanded facilities.
The Circuit Breaker Tax Cap, while beneficial to home and business owners, has resulted in more than $100 million in lost revenue for FTCSC. Over the last 12 years, we have seen $121,406,429 in credits not billed.
The Myth of FTCSC as a high-tax district is exactly that: a myth – not supported by facts. Franklin Township has the LOWEST residential tax bill in all of Marion County.
How can that be since some other districts have lower tax rates? Homesteads are capped at 1% of assessed value and the majority of homes are at the tax cap. Because the total tax rate is combined with the City/County rates and other governmental units, all of the rates in Marion County are over $2 and pushing $3 in most cases. This causes homes to hit the 1% tax cap. All of the other school districts in Marion County will be paying a referendum rate in addition to their 1% property tax cap. Because FTCSC does not have a referendum rate, the property tax bills are lower for homes in FTCSC than of similarly valued homes elsewhere in Marion County.
(This article updated 3/8/22)