About Our School Superintendent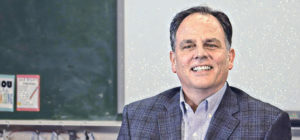 As the chief school executive of Franklin Township Schools, Bruce provides for the
preparation and submission of recommendations relative to all matters requiring Board
action. His passions are the building of a cohesive leadership team and the development of an academic framework that will prepare students for their future. For his leadership efforts, Bruce was presented with the (re)Defining Excellence in the District Award by Solution Tree in 2011.
Bruce earned a Bachelor of Science in Education from Ball State University; a Master of Science in Education Administration from Butler University; and his PhD in Education Administration from Indiana State University.
Bruce's professional experience includes teaching social studies in the Indianapolis
Public Schools. He taught seventh grade social studies for ten years at Frankfort Middle School in Frankfort, Indiana. He was a high school assistant principal at Frankfort Senior High School and Noblesville High School. He spent five years at Northridge Middle School in the North Montgomery School Corporation as Principal. During his tenure at Northridge, he was named the Indiana Association of School Principals, 2003 District Four Middle Level Principal of the Year. After finishing his PhD, he became the Assistant Superintendent of the Metropolitan School District of Washington Township on the north side of Indianapolis. He served as the Superintendent of the New Albany Floyd County Schools for eight years in the Louisville metro. Bruce has been Franklin Township's Superintendent since July of 2017.
He and his wife Kristin are the grateful parents of three children (Isaac, Thomas, and
Caroline).